Want to know a secret? Medical professionals are HORRIBLE at taking care of themselves.
Ok, fine. You probably already knew that.
In fact, if you're anything like me, this was just one of the many lessons you learned in med school and the years that followed (aside from the importance of befriending the unit clerk and how to round post-call in cute heels, of course).
Maybe you've also realized (or experienced) by now that most of us professional healer and helper types are so used to focusing on the wellness of others that we rarely stop to consider our own well-being.
Instead, we tend to develop behavioral patterns that help us to get through the rigors of our daily responsibilities but only allow enough room to care for others and not ourselves.
Spoiler Alert: That doesn't work out so well in the long run.
Can I be real for a second? You're not doing yourself any favors by…
… being late every day because you dread going to work

… begrudgingly working long hours and taking on tasks that make you feel underappreciated

… staying where you are – regardless of your happiness level – just because you're afraid of change
I learned that the hard way but I'm here to make sure that you don't have to.
Essence of Strength is a website and coaching practice that is committed to helping you create a life you love. This looks a little different for every single person but imagine waking up excited to go to work, having more time in your schedule for things you love to do, and LOVING all parts of your life (and not just bits and pieces). It can happen. Essence of Strength can help.
There are a couple different ways for you to plug into the community:
Read the Essence of Strength blog and get a feel for topics we discuss around here + some actionable wisdom to start reflecting on and implementing right away.
Sign up for our Monthly Newsletter (using the form to the right) and receive your copy of the Five Essential Strengths to Simplify Self Care, Plan B Basics, a personal well-being self-evaluation, exclusive monthly self care exercises, and blog updates directly in your inbox.
Request a sample coaching conversation where together we'll do an honest assessment of the different areas of your life and identify places where you may need support as you make a transition!
Thanks again for stopping by the site! I hope to connect with you soon!
A little bit about me
. . . . . . . . . . . . . . . . . . . . . . . . . . . . . . . . . . . . . . . . . .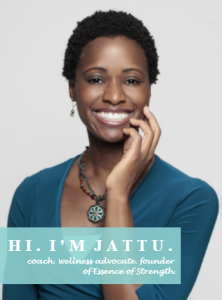 My name is Jattu. I am the founder of Essence of Strength, a clothes aficionado, and a retired physician turned life coach and self care advocate. This is my story:
In 2010 I made the decision to leave my job as a board-certified obstetrician-gynecologist to pursue my own personal well-being. At the time I did not have a clear picture of what well-being was for me but I was confident the current situation was not it. After four years each in medical school and residency training, I had high hopes for my quality of life when I entered private practice. Instead, after six years, I ended up emotionally and physically drained.  It was a classic case of burnout.
After some down time for rest and rejuvenation, I realized I wanted to return to work in a capacity where I was still able to help people. The groups that always touched my heart the most were individuals struggling with excess weight and my fellow unfulfilled physicians. I wasn't sure how I could help the latter, but I knew I could address the former by working as a personal trainer.
I loved helping clients experience stress relief and achieve their fitness goals. However, as I became more successful as a personal trainer, I found myself reverting back to the old feelings of constant exhaustion. It made no sense to me because theoretically I had a much less stressful job now.
About this time I began investigating how to add health and wellness coaching to my personal training practice. Ironically, through this process I came to acknowledge I had spent my entire adult life focused on others' wellness but never learned how to maintain my own well-being. In fact, I managed to bring the same maladaptive life habits to personal training that I had as a full-time ob/gyn.
Once I acknowledged I am best able to help others when I do what I need for myself, I knew I needed new strategies to make self care an fundamental component of my life. By working with a coach myself, I was able to establish the self care habits that support my well-being and achievement. I put systems in place to ensure I keep my true purpose in mind and consistently make decisions aligned with that purpose. This helped me find the peace I had been seeking since I stopped practicing medicine.
This personal development process also brought about a "eureka" moment for me in terms of how to be of service to my burnt out doctor colleagues and other altruistic professionals.  As a group, individuals in healing and helping professions are particularly susceptible to self-neglect. In order to keep achieving our goals, we often develop survival techniques to get through the rigors of our daily responsibilities to our patients, clients, students and families. Many times this leaves us only enough reserve to care for others and not ourselves. As one who has seen the issue from both sides, I feel it is my mission as a coach to help healers feel empowered to make the life decisions necessary to be well.